Chernobyl hotels: This is what you need to know before spending a night in Chernobyl
Now it is possible to spend a night in Chernobyl. Is it safe? How to book a hotel in Chernobyl? What are the conditions and prices? Hotels, Hostels and airBNB possibilities in and around the Chernobyl Zone. Chernobyl multi day tours are getting more popular – why is it worth staying in Chernobyl? Why can you not stay overnight in the city of ghosts Pripyat? Are you allowed to walk freely from and around the hotel?
Chernobyl hotel: Is it a joke?
View on Pripyat and the NSC
Photo: ChernobylX photobank archive
First I went to Chernobyl in 2008, this was exactly what I thought to myself: my friend is surely joking when he said we will actually spend the night in Chernobyl. As I realised during our first day of Chernobyl expedition, the Chernobyl hotel is not the one abandoned in the ghost town of Pripyat, which is some 10 kilometers away (20 minute drive).
Pripyat hotel is iconic from the games or movies like Chernobyl diaries. I wrote this article about Chernobyl hotels to end the confusion of the accommodation facilities in Chernobyl Zone as well as the hotels near Chernobyl. Enjoy reading. And enjoy the night in Chernobyl. It is indeed magical, since 2008 I have spent over 100 nights in Chernobyl myself and every one was special. No joke.
Why to choose Chernobyl hotel after all?
The 2 day Chernobyl Tours or Private Chernobyl Tours for up to 5 days  start to grow in popularity in recent years as it is the only chance to get over the "overtouristic" day tours to Chernobyl from Kiev and see much, much, muuuuch more. There is no sense of returning to Kiev from Chernobyl and back the next day. Instead, you can indeed be alone in the ghost town of Pripyat – either after every group tour left in the afternoon or evening, or morning, as nobody – especially the police patrols – are not around.
Exploring, peeking into some buildings and having plenty of time for top notch pictures of Chernobyl zone places is inevitable. Overnight stay in Chernobyl might sound scary for your grandma, the accommodation facilities in Chernobyl zone are very safe – in terms of radiation as well – read below or read Radiation safety in Chernobyl . The city of Chernobyl is clean and you will not find higher levels of radiation in the streets or around hotels. Currently over 3000 workers live in the city.
Chernobyl Hotels – which one to choose
Hotel in Chernobyl city
Photo: ChernobylX photobank archive
Picking a Chernobyl hotel, you have only two options: bad or worse. Let me explain. Most of the hotels in Chernobyl Zone were or are state property, still run in a very Soviet fashion, none of the Chernobyl hotels would be probably considered a hotel in the western sense of this word (we would call them hostels) and likely get no star hotel rating at all.
Be careful and ask your tour operator in which hotel you will be accommodated on your tour as some Ukrainian companies tend to mislead international tourists claiming this "Chernobyl hostel" is the only option in the Zone. It is not. Over the years and nights spent basically in every facility in and around the Chernobyl Zone, as a tourist (coming from Slovakia) and now a tour guide, I learned not to compromise on sleep. If you do not have a good night – e.g. only cold water, no heating, bad smell or loud neighbours…you will be walking like a zombie the next day. Maybe this is why some people think there are some zombies walking in Chernobyl…
First hotel in Chernobyl? Hotel Pripyat
Hotel Pripyat in Chernobyl town
Photo: Tripadvisor
The oldest Chernobyl hotel which is now considered "take me back to USSR" accommodation is hotel Pripyat (careful – the name is misleading – it is located in clean Chernobyl city), with around 20 rooms of 2-4 beds, with some additional flats in the next building. Do not go there in winter! The heating is turned on very late, turned off early.
Beside the fact some of the rooms still have the 1970s bathrooms (in each room), the windows remember even Prague spring in 1968, the beds are new, but not very comfortable and squeaking when you move in the sleep.
Room in hotel Pripyat
Photo: Tripadvisor
Also, the hygiene and cleaning service in this Chernobyl hotel are limited, hot water might be off sometimes and heating can be limited especially in Autumn and Spring. Recommended to die hard fans of Soviet times. Usually some contract workers or drivers sleep there. Warning – no WiFi, bar or restaurant in this hotel, bring your own meals or go to eat across the street. Important: ChernobylX does not accommodate you here until you ask for it.
Chernobyl Hostel
Privately owned since 2019 hostel on Kurchatova street in Chernobyl. Formerly it was a dormitory for contract workers who built the New Safe Confinement of Chernobyl Nuclear Power Plant. The rooms are basically flats turned into rooms with a joined bathroom and toilet. The rooms were renovated some 8 years ago, some were upgraded by the new Armenian owner in 2019.
There is – as well as in Hotel Pripyat (where this room is locked for some reason) – dining room with tables and chairs for some 20 people. Overall, this Chernobyl hotel has a very good capacity of around 150 beds in 61 rooms, a shop nearby, however no restaurant and WiFi. Usually the Chernobyl visitors can live in a room of 1-3 people with a shared bathroom.
Desiatka Chernobyl Hotel
Hotel Desyatka in Chernobyl town
Photo: ChernobylX photobank archive
Hotel Desiatka is found as well as Desyatka – depends on the way you rewrite cyrilic "ДЕСЯТКА" – its original name in Ukrainian. So, either way, it is the same hotel! The name Desiatka means number Ten, which is a nickname to the 10-kilometer Chernobyl exclusion zone which starts right after Chernobyl and where all the contaminated places and ghost towns such as Chernobyl-2, Pripyat, as well as the Chernobyl power plant are located.
Room in hotel Desyatka
Photo: ChernobylX photobank archive
By far the best option for spending a night or two in Chernobyl. This privately held Chernobyl hotel (although the owners very seldomly come to check it) of 19 rooms can accommodate up to 35 people in rooms of 1-2 people. However the bathrooms are in the corridor, shared, but apart from the other Chernobyl hotels, there are enough bathrooms for the guests without cueing in the morning and evening, also there is enough hot water in the boilers. The beds are simple, cheap and the mattresses very soft which means a not very healthy sleep, but some Chernobyl tourists like it this way.
Hotel Desyatka in Chernobyl town
Photo: ChernobylX photobank archive
The restaurant serves breakfast, lunch and dinner. There is also a bar (however open only till 9 PM) serving tapped beer, spirits, coffee (not very tasty), they have few souvenirs as well. Rooms in Desiatka Hotel in Chernobyl are with A/C and TV (if you do not speak Russian or Ukrainian, it does not matter as there are only Ukrainian channels:-)). The WiFi is very limited, do not plan some conference calls for evenings.
This hotel has one big disadvantage for people who like to hang out outside, as it closes down at 10PM and it is basically locked – nobody coming in and out. In the Chernobyl Zone, you are not allowed to walk after 10 PM, anyway. Smoke is allowed on the porch only. It is definitely worth the 30 € per night more on your Chernobyl tour – not just you will have a better sleep, also you will be served breakfast the first so you can drive off to your abandoned explorations in Pripyat or Duga Radar the first.
Fun Fact About Desiatka Chernobyl Hotel
Hallway in hotel Desyatka
Photo: ChernobylX photobank archive
This Chernobyl hotel was a former office building with accommodation and restaurant of agency Chernobylinterinform which became a symbol of the corruption in the zone, leading even to temporarily stopping Chernobyl tours (around 2011) as well as closing down this touristic and archive institution about Chernobyl few years later.
I remember having the iconic breakfast there in the winter of 2008-2009 with 14 courses including soup and chicken with rice. Not very tasty. But after that I did not need any food during the day on my first Chernobyl trip. For video game players who spent hours on the iconic Ukrianian game S.T.A.L.K.E.R. Shadow of Chernobyl which is taking place in the Chernobyl Zone hotel Desiatkas second floor is a magic place. Back (probably) in 2007 the game was introduced to the world on these very premises of now a Chernobyl hotel.
Slavutych Hotel
Slavutych hotel in Slavutych town
Photo: ChernobylX photobank archive
This new hotel in the city of Slavutych is not in Chernobyl Zone, however we prefer it during our Chernobyl tours with Power Plant excursion as it is connected to an unforgettable experience: riding a train (via Belarus – no worries, it does not stop, so you do not need visa;-)) from Chernobyl power plant with the EMPLOYEES of Chernobyl Power Plant. Very easy to get into a conversation with these insiders, many of them working there even before the Chernobyl disaster in 1986. Of course, only in case your level of Russian is good, or their English not that bad. Ideally, ask your Chernobyl guide to join you, so they can translate.
Building of Slavutych city, 1988.
Photo: Unknown archive
Slavutych is the new Pripyat. It was built for the atomic refugees and still the majority of the city inhabitants are tied up to the Chernobyl nuclear power plant. You will see how Pripyats life would be in case of no accident.
This Chernobyl tourist hotel, that is not located in Chernobyl, but I use it the most on my Chernobyl tours currently. It is privately owned (rumours say that by the former director of Chernobyl nuclear power plant) and only 5 minutes walk from the train station where our train terminates. New rooms for 1-3 people, with their own bathroom, fast WiFi, very neat and clean. Great yet small restaurant inside.
Even better dining possibilities in walking distance of Slavutych hotel as it is in the heart of this youngest city in Ukraine. Slavutych hotel is a bit pricey, but the extra 30 € investment compared to the Chernobyl hostel options is worth it. The price includes also the train tickets from and back to the Chernobyl Zone.
New Hotel STALKER
Stalker hotel
Photo: stalker-chornobyl.com.ua
In 2021 a new Hotel and Hostel was opened just 1.5 kilometer from the Dityatky checkpoint, at the border of the Chernobyl zone. It has a name connected to the famous S.T.A.L.K.E.R. video game, however it refers more to the current illegal visitors of the zone, so called Stalkers. They are probably not the target customers of this very fancy place designed in urban style with very cosy rooms (most of them hostel type, bunk beds) with a very decent grill restaurant.
Room in Stalker hotel
Photo: stalker-chornobyl.com.ua
Also, the prices are a little bit off the Chernobyl price range with both accommodation and dining. But the quality is probably worth it. You can get a bed under 20 € in a room with 5 other people (hostel), on the other range a double room starts around 60 €. The downside of this beautiful accommodation is the fact that it is actually outside the Chernobyl zone (some 20 min ride from Chernobyl city) and located in a village where there is not much to see or do.
Chernobyl Cottage Accommodation
With booming tourism in Chernobyl zone, some locals turned their houses and cottages into an airBNB style of accommodation. Wooden huts, village houses, cottages and guest houses are located outside of the Chernobyl Zone and the prices per night are somehow similar to other Chernobyl hotels. The 20-30 minute ride to get there from Chernobyl pays off by more hospitality and freedom. These family owned guest houses are family runned and they hope you will return one day, not like the Chernobyl hotel or hostel with very limited guest service.
Home cooked meals or BBQ are a great alternative for dinner compared to any restaurant or canteen in Chernobyl. Freedom is the fact that once you have the keys to the Chernobyl cottage, you are free to go anywhere and also wake up and have breakfast at your comfortable time. We like to use a few proven guest houses with caravan camping areas in the village of Orane, just outside of the borders to Chernobyl zone. It is runned by the family of our beloved colleague Sergei. It is the ideal place for private tours to Chernobyl for more than 2 days, as well as private Chernobyl tours of larger groups, friends or colleagues, however limited to around 20 beds only.
Chernobyl hotels of the past and future
Until 2014 the number one accommodation in Chernobyl was the Chernobylinterinform agency hotel right across the street from their office (now Desiatka Chernobyl hotel). The two storey building with 20 rooms of 2-4 beds was closed down and left abandoned, with leaking roof and without any electrical or water supply. As of 2021 the owner of Chernobyl Hostel intends to turn this Chernobyl hotel into a new, middle class Chernobyl accommodation with a restaurant. The number of rooms or beds will probably stay the same with around 40 to 50 people spending their night in Chernobyl.
Over the years, I have heard many rumours on other hotels in Chernobyl to be opened, mostly dormitories of contract workers who were building the New Safe Confinement of Chernobyl Nuclear Power Plant and as this project is now being in the last stage, we will see some of the facilities of Novarka (company building this "new sarcophagus") empty. And maybe they will be turned into Chernobyl hotel one day by profit-thirsty businessmen.
Customer care of Chernobyl hotels
Buildings in Chernobyl town
Photo: ChernobylX photobank archive
Why am I saying profit-thirsty? Well, that was the feeling I got from talking to the owners of Chernobyl hotels. None of them is either educated, nor has any experience in the hospitality business. One is a lawyer, the others are food supply businessmen dealing with Ukrainian army. When bringing to them hundreds of filled questionnaires from our tourists (we are asking about the overall experience and ways of improvement), they actually did not take a look, nor even listened to our proposals or simple solutions, even though we book for our customers by far most of their capacity. I really do not see a big issue with spending a few cents to buy a more quality toilet paper.
The answer was uni sono – this hotel needs to make money. Improvements that do not make immediate money will not go through. They don't really care if the people will come back, actually they do not even know if the next government will not try to kick them out of Chernobyl zone and leave their investments to fade out. This status quo and mindset is hard to change, but there is some hope.
Few of the Chernobyl hotel employees see the way Chernobyl guides treat the customers, they constantly ask them for favour, for little improvements or faster service, and some of them really understood that only together we can make the people leaving good reviews, telling their friends and most importantly coming back because they felt so so good.
Quality and safety of Chernobyl hotels
Dining room in Hotel Desyatka, Chernobyl town
Photo: ChernobylX photobank archive
Looking back on my first stay in Chernobyl over a decade ago and today, I have to admit, the quality increased – we see vegetarian food served, faster service, easier to digest and tasty meals for foreigners and cleaner bathrooms. Along the way, I made some people unhappy by constantly explaining and showing a huge space to improve, which requires effort and time, of course. It will take some time until we will see a buffet type of breakfast, self-check in app or robo concierge in any of the Chernobyl hotels.
Since Ukraine was for decades having higher criminality than the rest of Europe, people, including hotels are very well prepared for thiefs or pickpockets – concierge, locking doors, cameras, police patrols coming regularly. I can recall only one time I was investigating some missing item from a guest room, thinking it was a hotel employee who took it. At the end, we found it somewhere in the bathroom where it was placed by the drunk guest.
Chernobyl hotels radiation
If you already read some blogs of mine, you know I am a radiation safety freak – you can read about my first trip experience to Chernobyl. Of course, going around the dosimeter in my first Chernobyl hotel room was before I took a look out of the window. I checked the corridors, bathrooms and toilets. All clean. The radiation background level in every Chernobyl hotel I went to was natural radiation background – up to 0.3 microSieverts. So when your granny gets scared that you will spend a night in Chernobyl, send her a picture of your Geiger Muller counter – dosimeter (we provide free of charge) to calm her down.
It is very unlikely somebody would bring in some radioactive particles inside before you, as you have almost no hotspots that people can reach in the 30-kilometer zone where Chernobyl is. Always, when you exit the higher contaminated 10 kilometer Zone to get to your Chernobyl hotel, you are being checked at dosimetric control with very sensitive sensors especially for the shoes. In case you have some "glowing" piece on your shoe (happened on the tours I have guided only once), you simply wash them in a small basin on the checkpoint. And then go through the check again.
After over 12 years of coming, sleeping and dining in Chernobyl hotels, I am more calm than ever that I can promise you a good and comfortable night, and make it a solid part of the 2-day or private Chernobyl tour experience.
Bonus: Famous Chernobyl Hotel that actually IS RADIOACTIVE
Hotel "Polissya"
Photo: ChernobylX photobank archive
So where the heck is the iconic hotel I know from your pictures and videos, Dominik? Just promise me you will not try to get a room there! 😉 Not just because it has no receptionist, windows, running water, electricity or heating. Hotel Polissya in Pripyat is the only hotel in the Chernobyl Zone where I actually measured higher radiation (Up to 20 times higher than the natural radiation background). The roofs of Chernobyl houses often hold radioactive particles in the moss or drainage where it dropped back in 1986 during the Chernobyl disaster.
You can get a room in Hotel Polissya only in the video game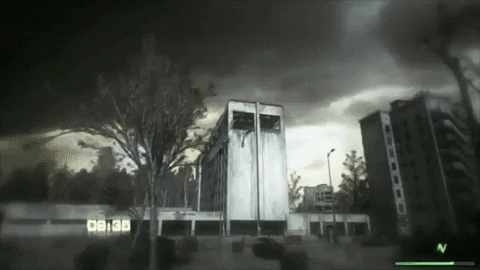 First-person shooter game Call of Duty 4
Source: media.giphy.com
This building became an iconic stop on your Chernobyl tour for 2 reasons. First: it is featured in the video game Call of Duty 4: Modern Warfare. Second: It was a place where the first Soviet government committee led by Valeriy Legasov was accommodated after the accident at the Chernobyl NPP.
Inside hotel Polissya.
Photo: ChernobylX photobank archive
The hotel is connected to the Pripyat City Council, which was headquarter of the liquidation works management, was occupied by dosimetry workers and soldiers. Since the fourth reactor of Chernobyl power plant is seen perfectly well from the hotel roof, it housed liquidators directing with walkie talkies actions of pilots flying in helicopters above the reactor to drop sacks with sand and other materials to seal the gap, as it was hard to reach the target in smoke coming out from burning reactor.
Time travelling to hotel in Pripyat
City center of Pripyat with hotel Polissya, 1985-1986.
Photo: Larisa Boyko
Although ChernobylX can not accommodate you there on your Chernobyl tour, we can take you there in VR and actually back to Soviet era thanks to our archives of Chernobyl history pictures and videos. It was a dream come true hotel back in the 70s and 80s where all the Soviet and foreign delegations coming to town were living.
With a small restaurant with outdoor terrace and panoramic views on the top floor, it was the place where locals could come for celebrating some important events or have a corporate party with drinks for only 5 rubles (nowadays 10 euro cents)! By the way, the waitresses were dressed up in national Ukrainian costumes and there was a live band playing every Saturday until the faithful night of April 26, 1986.
Hotel Polissya, 1984.
Photo: Unknown author
Hotel "Polissya" was built in the mid-1970's in order to host the numerous visitors from all over the Soviet Union and other Communist countries. The name has nothing to do with «police», because «Polissya» means a landscape zone with mild climate, many rivers and forests, that is spread in this part of Ukraine.
Compartir en las redes sociales:
Visitas principales
Diarios de chernobyl
Si estás esperando una seňal ¡es esta!